Celebrity anchor Nicolle Wallace and Michael Schmidt finally tied the knot last month. Yes, the power couple got married after dating for three years. A spokesperson from MSNBC confirmed this news with the media.
About Nicolle Wallace
As we noted before, Nicolle is a popular face in the American news world. Wallace was born on 4th February 1972. She is the eldest one of her four siblings and grew up in California. Nicolle's father was an antiques dealer while her mother was a teacher's assistant.
Wallace attended Miramonte High School and completed her graduation in 1990. Later, she got her Mass Communication degree from the University of California. In 1996, Nicolle completed her master's at the Medill School of Journalism.
After completing her studies, Wallace started her career as an on-air reporter. However, her political career working started with local California politics. Later, she moved to Florida to work as Jeb Bush's press secretary.
Her first major political event was the Florida election recount in 2000. After joining George Bush's team, her career took a different turn and made her a popular News personality throughout the US.
About Michael Schmidt
Just like Wallace, Micheal Schmidt is one of the most popular journalists in the US. He is known for some of his remarkable high-profile stories. That's the reason why he won the prestigious Pulitzer Prize two times.
Schmidt came from a Jewish family and his father is a well-known wealth manager. He used to attend John Randolph Tucker High School in Virginia. There, he was quite popular for playing baseball. In 2005, Michael completed his graduation from Lafayette College.
Schmidt started his career with The Boston Globe, a daily newspaper company. Later, he joined The Times as a clerk. However, he became popular while working for The New York Times. He also worked for NBC News and MSNBC as a national security contributor. Michael stole the limelight after breaking Hillary Clinton's email story.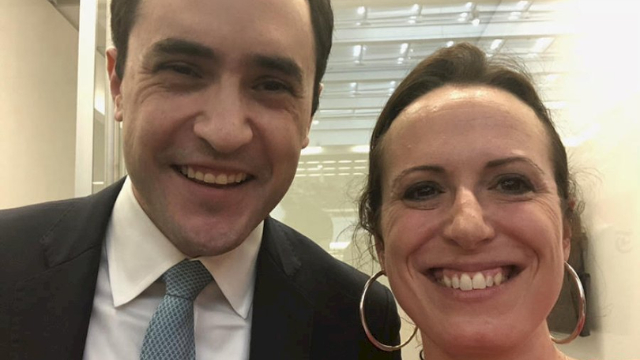 Nicolle & Michael Finally Got Married
Newsroom romance is getting a new turn in today's world. Wallace and her boyfriend Schmidt made their relationship official by putting on a ring. You see, Wallace is a quite famous name on MSNBC as she is hosting the second highest rated show, Deadline: White House.
Besides MSNBC, Wallace is quite popular for doing other projects. She used to work for George W. Bush, the former US president. Wallace was his communication director. Plus, she also worked for Bush's re-election campaigns. The anchor was a co-host of the popular show called The View for a year.
During the 2008 campaign, Wallace also worked as a senior adviser for Senator John McCain. In short, she was quite active as a Republican before joining MSNBC, a liberal news network. In fact, she also explained that she doesn't practice as a Republican. According to some sources, Wallace can be a replacement for Rachel Maddow who hosts a critical Republican show.
So, how did Nicolle and Michael meet? Well, this is a hot topic after the news of their wedding broke on the internet. Many people have some confusion about Schmidt. We have noticed some news about Schmidt working for MSNBC. However, it's not true. Well, Schmidt has been a guest on Wallace's show. Micheal also has a high-profile career as he is working for The New York Times right now.
Schmidt was the one who broke the news about Hillary Clinton using a private email ID to send classified information. Even though both Schmidt and Wallace have high-profile news careers, they tried to keep their relationship private. Besides that, Schmidt worked with MSNBC and NBC News on various projects.
Wallace's first marriage didn't go well and she got divorced in 2019. She was previously married to United Nations' US Ambassador Mark Wallace from 2005 to 2019. Plus, the couple also had a son named Liam. Maybe that was the key reason why she wanted to keep her relationship with Schmidt away from the camera. A report from Page Six stated that the new couple was spotted in the same month of her divorce at the South By Southwest festival.
Another close source confirmed that both of them didn't want to go public yet after Wallace's divorce scenario. Moreover, the source also shared that the pair was just sharing breakfast. Later, Page Six confirmed that Wallace and Micheal got married. They had a private wedding ceremony with limited guests.
In fact, they didn't make a public announcement. But the funny thing is the viewers spotted a wedding ring on Nicolle's hand. Workplace romance isn't a new thing for MSNBC. Another popular couple is Joe Scarborough and Mika Brzezinski, the co-hosts of 'Morning Joe'. MSNBC confirmed their relationship and they got married in 2018.