The education format is changing in India. Besides school and coaching education, parents are relying on digital platforms for their kids, thanks to advanced technologies. Yes, it became a new trend since the Covid-19 pandemic happened.
In short, there are so many education portals that help students to polish their academic studies. Here, we have to mention Chegg, an outstanding tool for students. In fact, this website is good for getting career advice.
After using Chegg India for a few days, we pointed out some remarkable facts. It's a great place for building your career. Yes, you can even become a Chegg expert and help all students. Well, the access for Chegg experts is quite different.
In this article, we will share how to register and log in for Chegg Expert. Plus, we will also share the basics and features of the Chegg Expert portal. Keep reading the article to explore some crucial points.
About Chegg
Before you register for Chegg, you need to learn some basics of this website. Well, Chegg is a popular American education technology company. The headquarters is located in California. This platform is well-known for providing students with digital and physical book rentals, textbooks, homework help, tutoring, and more.
In 2000, Three students from Iowa State University established a company named Cheggpost, a message board for university students. Later, in 2005, Josh Carlson teamed up with Osman Rashid and Aayush Phumbhra to offer scholarship searches, college application advice, and internship matching.
However, Carlson left the company in 2006. After that, Rashid and Phumbhra rebranded the company and named it Chegg. They started focusing on Netflix's rental-based model to provide the best service to students.
Chegg got the limelight during the Covid-19 pandemic. According to a report, the company had around 2.9 million subscribers in March 2020, making it one of the most valuable edtech platforms in America. Right now, Chegg is working with various AI tools including ChatGPT to improve its service.
Features
Most people prefer Chegg India for its outstanding features. If you are a newbie, you need to know about these features. Keep reading the following section to know more:
Proprietary Library:
The best thing about Chegg is it provides physical and digital book rentals. In fact, you can purchase textbooks from this website. Right now, Chegg gives access to 400,000 eBooks at just $4.99. If you want to sell old books, this is the perfect platform.
Subject Expert Q&A:
Subject Expert Q&A is the key feature that attracts thousands of students. This website has experts who will help students by answering questions. A student has to visit the portal and check for the Q&A section based on the subject.
Advanced AI-Based Problem Solving:
After the launch of ChatGPT, Chegg started using the tool to give more in-depth answers. In fact, it improves the education experience as well. Chegg is also launching the GPT4 AI tool for a better service.
Homework Help:
Most students struggle with completing homework. In this case, Chegg can provide in-depth help with different features. Moreover, you can also find course-specific content for advanced education. The website claims that around 94% of students get better grades by using Chegg Expert.
Internship:
Besides study help, this website is very good for giving students advice. Just visit the site and get all details of a suitable internship. In fact, Chegg is associated with different internships including data analysis, software engineering, marketing, finance, cybersecurity, design, and more.
Career Advice:
Just like internship news, you can also get career advice on Chegg. The best part is that Chegg is very updated to provide the best career advice to students. So, if you are confused about your career, just visit the website and explore your dream job.
Step-by-Step Chegg Expert Registration Process
Before you start with Chegg Expert, you have to go through a registration process. In this case, you have to follow some easy steps. In the following guide, we will share a step-by-step method to open your Chegg Expert account. Let's find out:
Step 1: Open your web browser on your device and search for the official website.
Step 2: Go to the search bar and type the website address, you will get various search results.
Step 3: Click on the right link from these search results.
Step 4: On the home page, you will find a login section. Here, you have to give all the required details.
Step 5: A new web page will be open. Here, you have to input more required details including email ID, full name, captcha code, and more.
Step 6: After checking everything, submit the details, The system will send an email as a confirmation.
Step 7: Follow the email and do all the steps to complete the registration.
The registration process is quite easy. However, you don't need to share any payment details or money to register on this website. When the registration process is done, you have to set up a password for further use.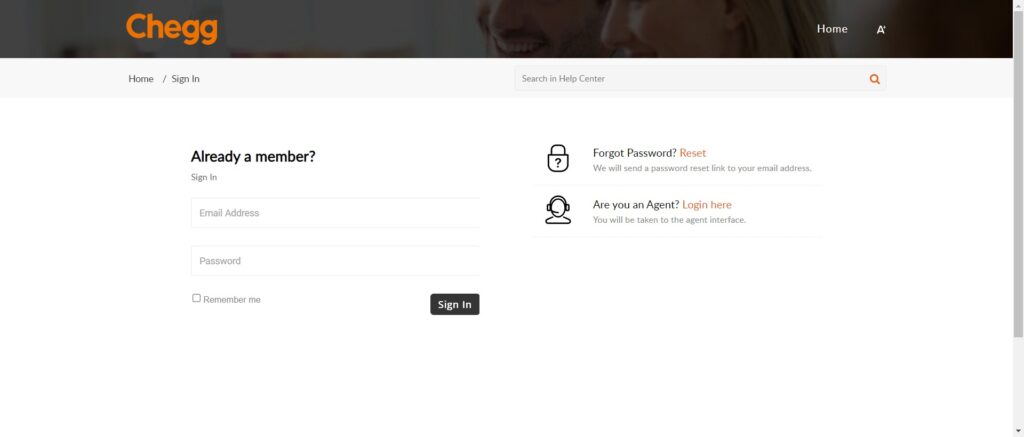 Chegg India Login Guide
So, have you completed the registration process? Now, you have to complete the log in each time you access the account. It can be a bit complex for newbies. However, we will share an easy Chegg India login guide in the following:
Step 1: First, open your web browser from your device. The website is compatible with all devices.
Step 2: Search for the official website on the search bar.
Step 3: You will get different links. Click on the first link to open the homepage.
Step 4: When you open the homepage, you will find a login section. Here, you have to input your email ID and password.
Step 5: Double-check your information and submit the captcha code to continue the process.
Step 6: Next, click on the 'Login' button to complete the method. Now, you can access the Chegg Expert dashboard.
You have to keep in mind that this login process isn't applicable to students. It's only for tutors and Q&A experts.
Conclusion
Finally, you know the right process for Chegg India registration. Make sure you read our guide and implement each step to get the result. If you need more information regarding Chegg, visit the official website. In fact, you can contact the support team to get more details.
FAQs
Q: How do I start working for Chegg?
If you are ready to work with Chegg, you have to visit the website and make a registration. Then, you can access the dashboard by using the email ID and password.
Q: Is working in Chegg safe?
Absolutely, Chegg is a legal company that helps students to improve their education. Besides students, it's totally safe for Chegg experts. But you can't copy content for Chegg Expert Q&A.
Q: Does Chegg pay monthly?
Yes, Chegg Expert service is available for one payment per month. That means you can get the payment on a monthly basis while working with this company.
Q: How many questions can you post on Chegg per month?
If you become a Chegg Expert, you can answer as many questions as you want. For students, it's more than 20 questions they can post a month.